We have two words for your Friendsgiving guests: Crispy Prosciutto.
This holiday season we are embracing the unexpected and putting our own spin on traditional side dishes, and traditional Chardonnay. Imagine a creamy fall risotto, topped with salty, crisp prosciutto and fresh herbs and paired with our newly-released Chardonnay, aged in American oak barrels, a new bold take on a California classic.
This recipe is perfect for a dinner party in, but it also travels well, an excellent solution when you've been assigned a "side dish." To transport, make or transfer risotto to a dutch oven or casserole dish with lid that can be reheated at your destination. Keep crispy prosciutto and sage separate to add just before serving. Enjoy!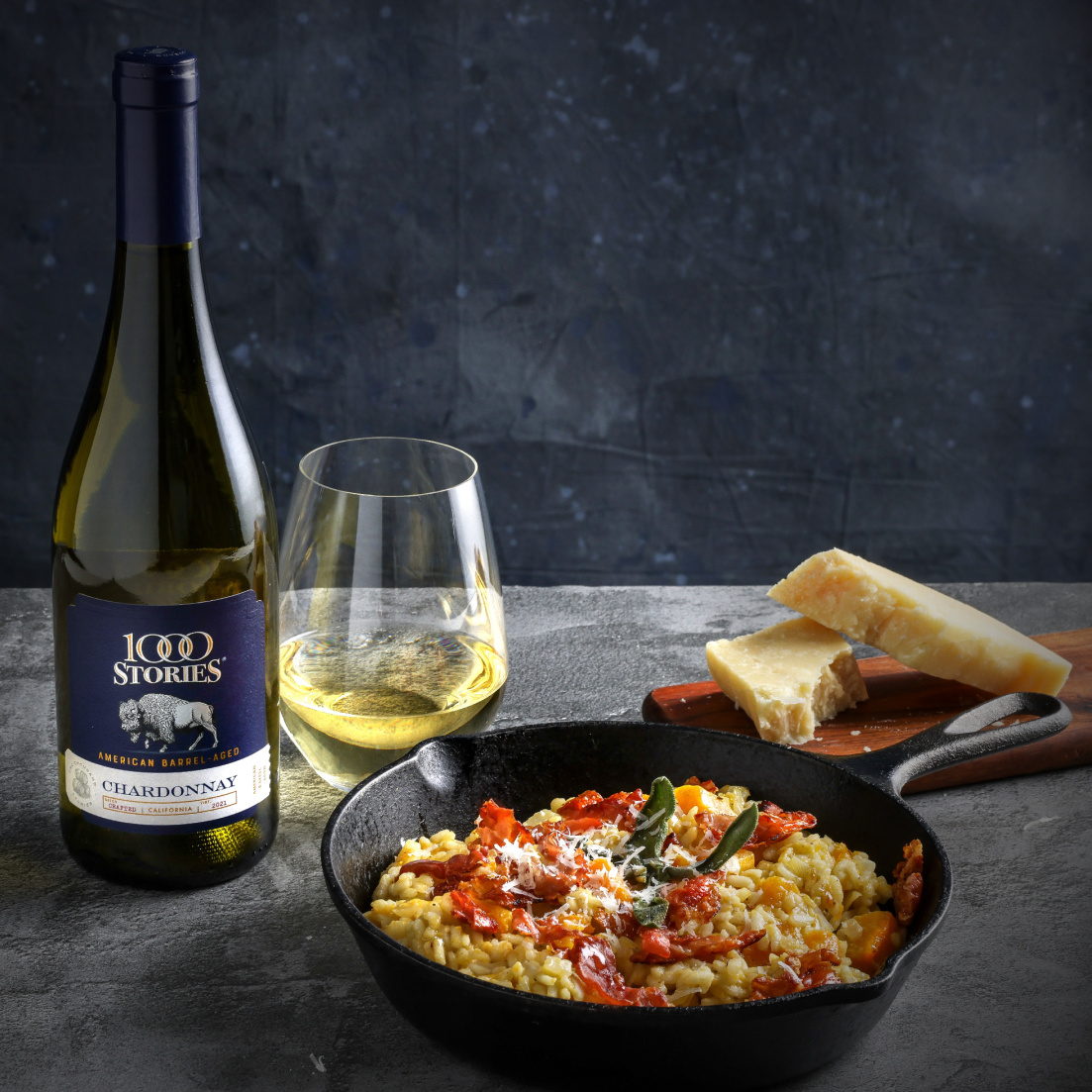 BUTTERNUT SQUASH RISOTTO WITH CRISPY PROSCIUTTO
Serves 8
ingredients:
8 cups vegetable broth, low sodium
2 tablespoons extra virgin olive oil
1 yellow onion, diced
4 cups butternut squash, peeled, seeds removed, cubed
3 cloves of garlic, minced
1 teaspoon sea salt, divided
2 cups arborio rice
1 cup Parmigiano Reggiano, finely grated
4 1/4 ounces Prosciutto, sliced into small pieces
Fresh sage leaves
Salt/pepper to taste
directions:
In a saucepan, bring the broth to a gentle simmer, then leave on low heat to keep warm.
Meanwhile, heat the oil in a large pot over medium heat. Sauté the onions for five minutes. Stir in the squash, garlic, and half the salt. Cook for about six minutes, or until the edges begin to soften.
Stir in the rice and remaining salt. Cook for two minutes, or until the rice is fragrant.
Add the warm broth one cup at a time, stirring often and allowing time for the liquid to absorb before adding more. Cook until the risotto is al dente and the squash is tender, about 20 to 25 minutes.
Meanwhile, in a small sauté pan, over medium heat, add the prosciutto. Cook for 5 to 7 minutes, until cooked through and slightly crispy. Remove and set aside.
Add 1 teaspoon olive oil to the prosciutto pan and heat. Add the sage leaves and sprinkle with sea salt. Cook the sage leaves over medium-high heat until crispy and remove from pan.
Before serving, stir in the parmesan and season with salt and pepper to taste.
Divide into bowls, top with sage leaves and crispy prosciutto. Enjoy!