If you're looking to shake up your routine, this Spring Mix crispy chicken salad alongside a glass of our 1000 Stories Bourbon barrel-aged Chardonnay is here to make your summer brighter.
This easy-to-make and delicious meal requires a few, fresh ingredients topped with tender battered chicken, exactly what your afternoon needs. And our Chardonnay pairs so perfectly well with it that your tastebuds will be thanking you. So what are you waiting for? Try it for yourself, check the recipe out below.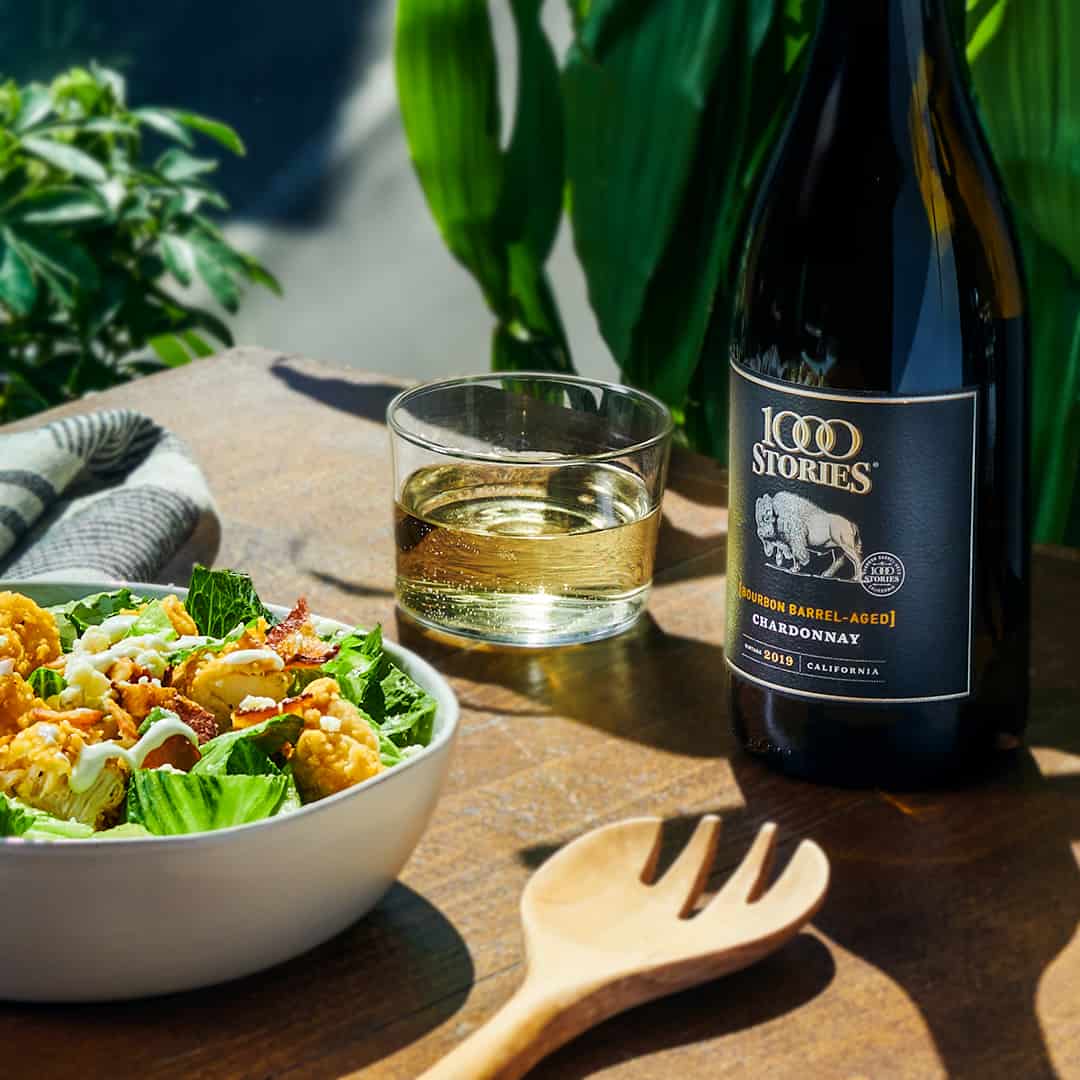 INGREDIENTS
SALAD
3 cups chopped romaine or salad greens
3 Celery stalks chopped
1/2 cup shredded cabbage
1 cup Shredded carrots
1 large Avocado sliced
Thinly sliced red onion (optional)
CHICKEN
1 lb chicken tenderloins
1 large egg whisked
3/4 cup blanched almond flour
1/4 cup tapioca flour or arrowroot
1 and 1/4 tsp fine grain sea salt
1/8 tsp black pepper
1 tsp onion powder
1/2 tsp garlic powder
1/4 cup coconut oil or avocado oil for frying
1/3 cup Frank's original hot sauce
1/4 cup ghee melted
Additional cilantro for garnish
DIRECTIONS
In a large serving bowl, arrange the salad ingredients, except for the avocado, which should be sliced right before serving to avoid browning. Cover and refrigerate while you prepare the chicken.
Whisk the egg in a small shallow bowl and in another shallow bowl, add the almond flour, tapioca, salt, pepper, onion powder and garlic powder.
Heat a large skillet over medium/med-hi heat (non-stick is preferred) and add the oil for frying.
Once sizzling hot, (breading will soften and fall off if oil isn't hot enough) dip a piece of chicken in the egg, shaking off excess, coat with dry mixture, and place in the skillet. Repeat with all chicken pieces.
Cook on one side until golden brown, about 3 mins, adjusting the heat if necessary. Turn carefully using tongs so as not to lose the "breading".
Cook on the second side until golden brown on the outside and cooked through inside – about 6 mins total depending on thickness.
Remove chicken to a paper towel-lined plate and allow to cool a bit.
In a bowl, whisk together the hot sauce and melted ghee. Dip each piece of chicken in the sauce to coat and place on a cutting board. If you don't want to cut the chicken before serving the salad, you can place the chicken right over the salad.
Cut chicken into pieces if desired, then arrange on the salad, drizzling any leftover sauce over the top. Arrange avocado around the chicken, and toss with your favorite ranch dressing before serving. Enjoy!