Traditionally, turkey and ham get all the holiday attention, but following those rules just isn't our style. Especially when there are so many great pork recipes out there.
Pork is great for pairing with wines that have a bold fruit profile, like our Bourbon Barrel Aged Gold Rush Red. The sweet, smokey flavor of pork in this recipe welcomes the wine without overwhelming it. The two make such a great match that we decided not only to pair the wine, but to use it in the recipe to make a delicious rosemary wine sauce which we drizzled over the top.
Make this as a main dish at your next dinner party – or go all out and host the family this year for something different. Enjoy!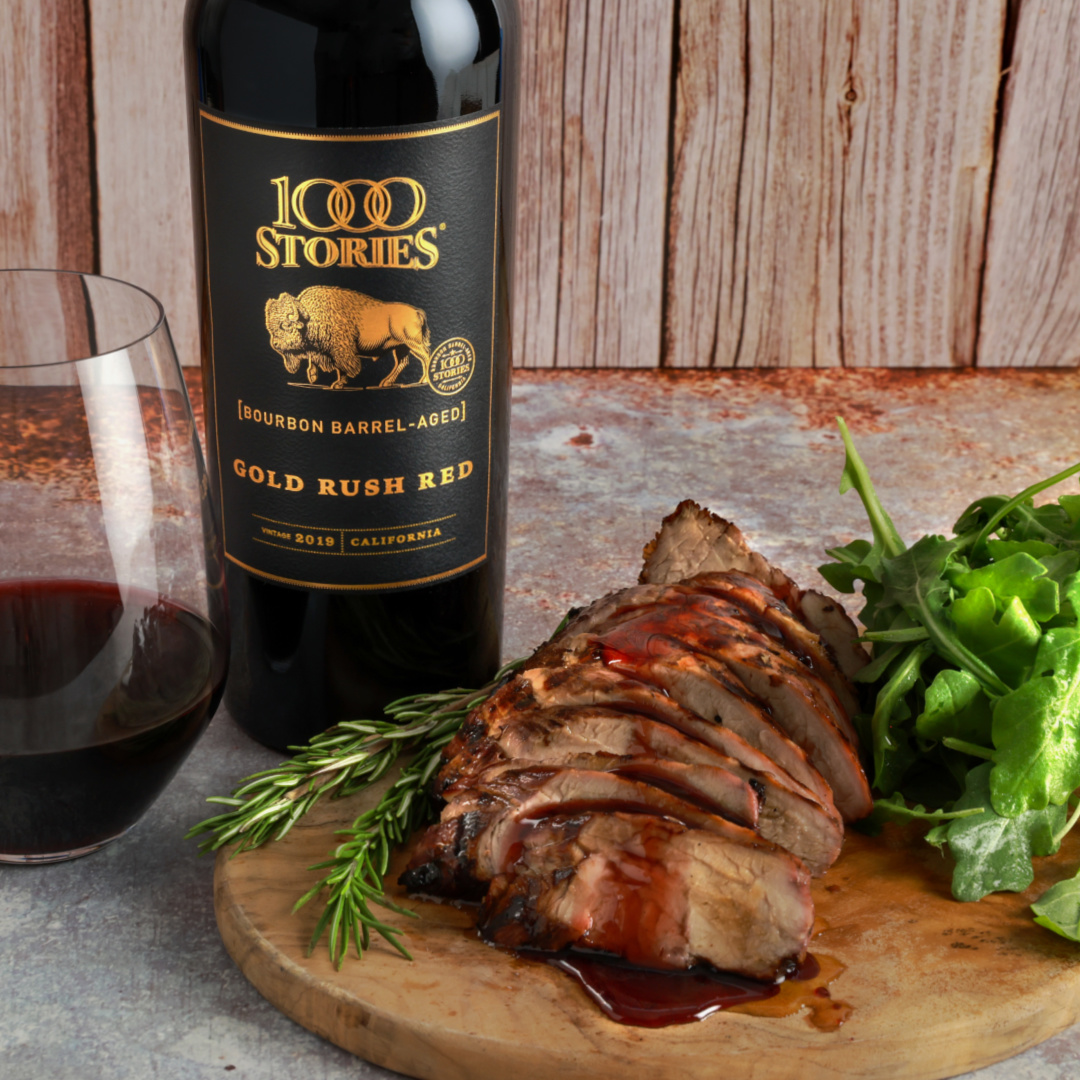 Grilled Rosemary & Red Wine Pork Tenderloin
Serves 6
Ingredients:
2 pork tenderloins, about 1 lb. each
1 cup dry red wine
1 (2 inch) sprig fresh rosemary
1 clove garlic, smashed
Salt/pepper
1/4 cup red-wine vinegar
1 tablespoon mild-flavored honey
1/4 teaspoon finely chopped fresh rosemary
1 teaspoon extra-virgin olive oil
2 cups baby arugula
Directions
Boil wine, rosemary sprig and garlic in a small heavy saucepan until reduced to about 1/2 cup, 7 to 8 minutes. Pour through a fine sieve into a measuring cup, then transfer rosemary sprig and garlic to a sealable plastic bag along with 1/4 cup wine marinade and tenderloins. Marinate, chilled, turning bag occasionally, at least 2 hours or overnight.
Return remaining 1/4 cup wine marinade to saucepan and add vinegar, honey, and chopped rosemary, then boil dressing until reduced to about 1/4 cup, about 10 minutes and thicker.
Prepare grill for cooking. When fire is medium-hot. Pat pork dry and season with salt and pepper. Grill on lightly oiled grill rack over medium-hot fire, turning frequently, until an instant-read thermometer inserted diagonally 2 inches into meat registers 155 degrees F, about 20 minutes. Transfer to a cutting board, then tent loosely with foil and let stand 10 minutes before slicing.
Once the pork tenderloin is sliced, drizzle rosemary/wine sauce over pork tenderloin and serve on a platter with baby arugula tossed with olive oil.