Fall is on the horizon and we are getting outdoors to soak up every bit of remaining good weather and impressive colors. And while we aren't quite ready to let go of our fresh summer salads (or white wines), we are craving something a bit heartier, something to fuel us through the changing season and the wine grape harvest.
This recipe combines crisp apples, tender roasted chicken and healthy quinoa for a hearty but healthy autumn meal. It also happens to be a great match for our American Barrel-Aged Chardonnay – a wine that was practically made for this season. With bolder flavors of marzipan, clove and marshmallow, this is not your every day Chardonnay. It transitions well from a warm day to a cool night and gives weight and flavor that satisfies both red and white wine enthusiasts.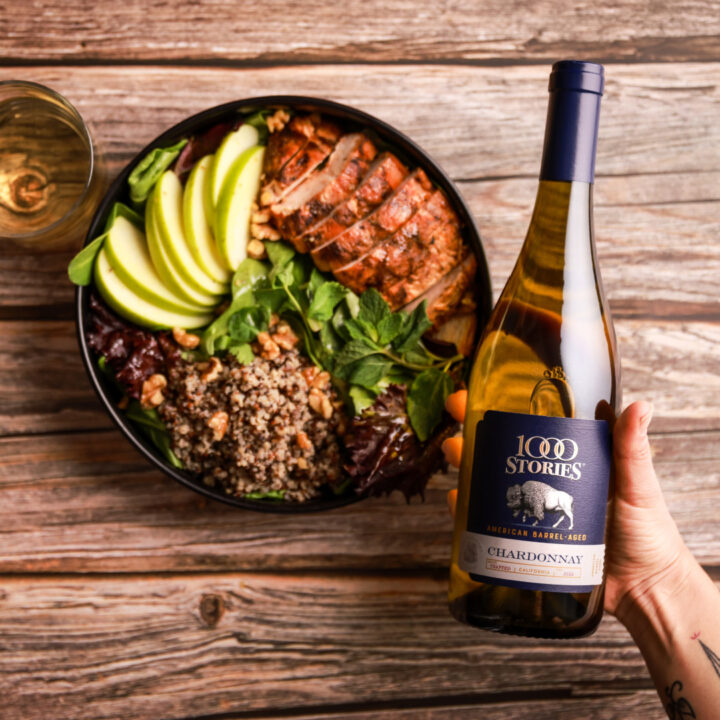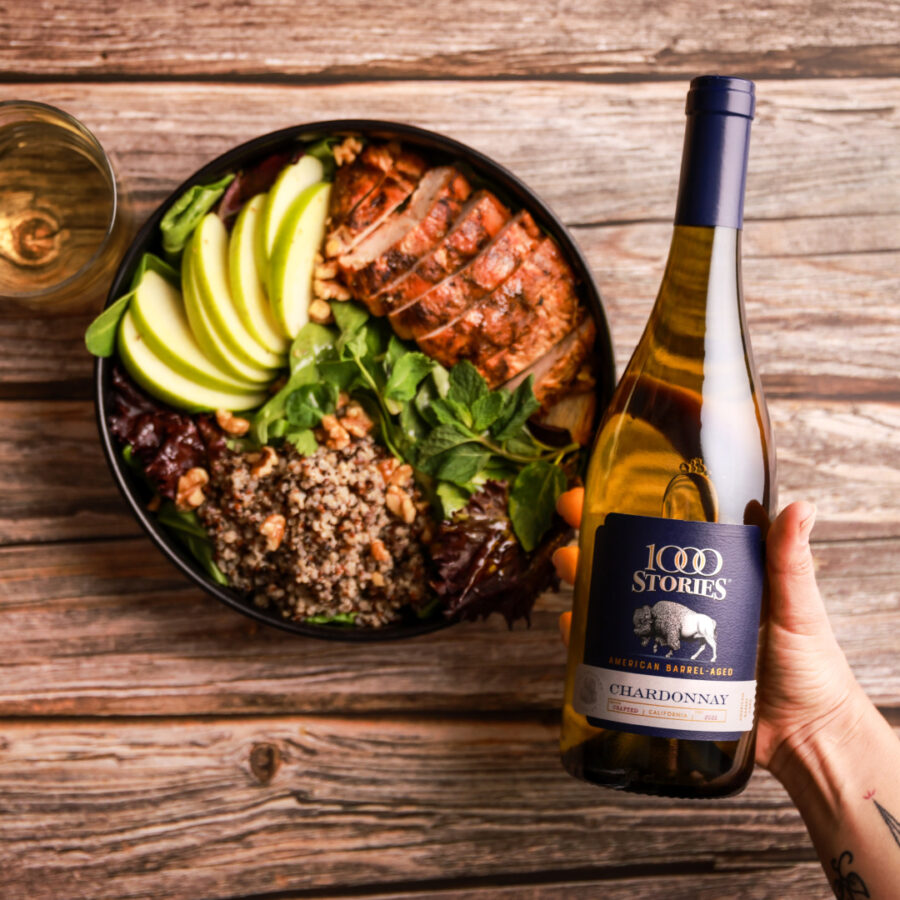 Apple Quinoa Salad with Roasted Chicken
Serves 4
Ingredients:
1 teaspoon toasted sesame oil
1 tablespoon extra-virgin olive oil
2 teaspoons smoked paprika
Sprinkle sea salt & black pepper
1 lb. chicken breasts
½ cup quinoa
4 cups favorite mixed greens: little gems, mixed greens, baby arugula
2 green apples, sliced
¼ cup fresh mint leaves
¼ cup toasted walnuts
Dressing:
1/3 cup tahini
¼ cup water
2 teaspoons honey
1 teaspoon toasted sesame oil
1 teaspoon apple cider vinegar (add more for a "tarter" dressing)
Salt and pepper to taste
Directions:
1. Preheat the oven to 425ºF and line a baking tray with parchment paper.
2. Add toasted sesame oil, olive oil, paprika, salt and pepper in a small bowl and mix to combine. Spread over the chicken. Bake in the oven for 22 to 25 minutes, or until the chicken is cooked through.
3. Meanwhile, cook the quinoa according to the package directions. Once cooked, fluff with a fork and let it cool.
4. Make the dressing by whisking the tahini, water, apple cider vinegar, toasted sesame oil honey together. Season with salt and pepper.
5. Thinly slice the cooked chicken. Divide the quinoa, arugula, apple, and chicken evenly between plates. Top with the dressing, mint and walnuts. Enjoy!
Recipe Notes:
Leftovers: Refrigerate in an airtight container for up to two days.
Serving Size: One serving is equal to approximately three cups.
More Toppings: Add red onion, feta or goat cheese
Make it Vegan: Omit the chicken or use chickpeas, tofu, or tempeh instead.