Sometimes big flavor comes in small packages. Crispy fried chicken sliders are the comforting two-bite snack made for our bold bourbon barrel-aged Zinfandel. We can't guarantee you'll have any leftovers after whipping up a batch, but these miniature sandwiches are best enjoyed hot anyway.
Carefully crafted and finished in season bourbon barrels, 1000 Stories Zinfandel brings ripe raspberry flavor and that signature California style to the table. In fact, we can't think of a better pairing for a sunny spring day than fried chicken and a pour of our savory Zin. Check out this recipe and don't look back.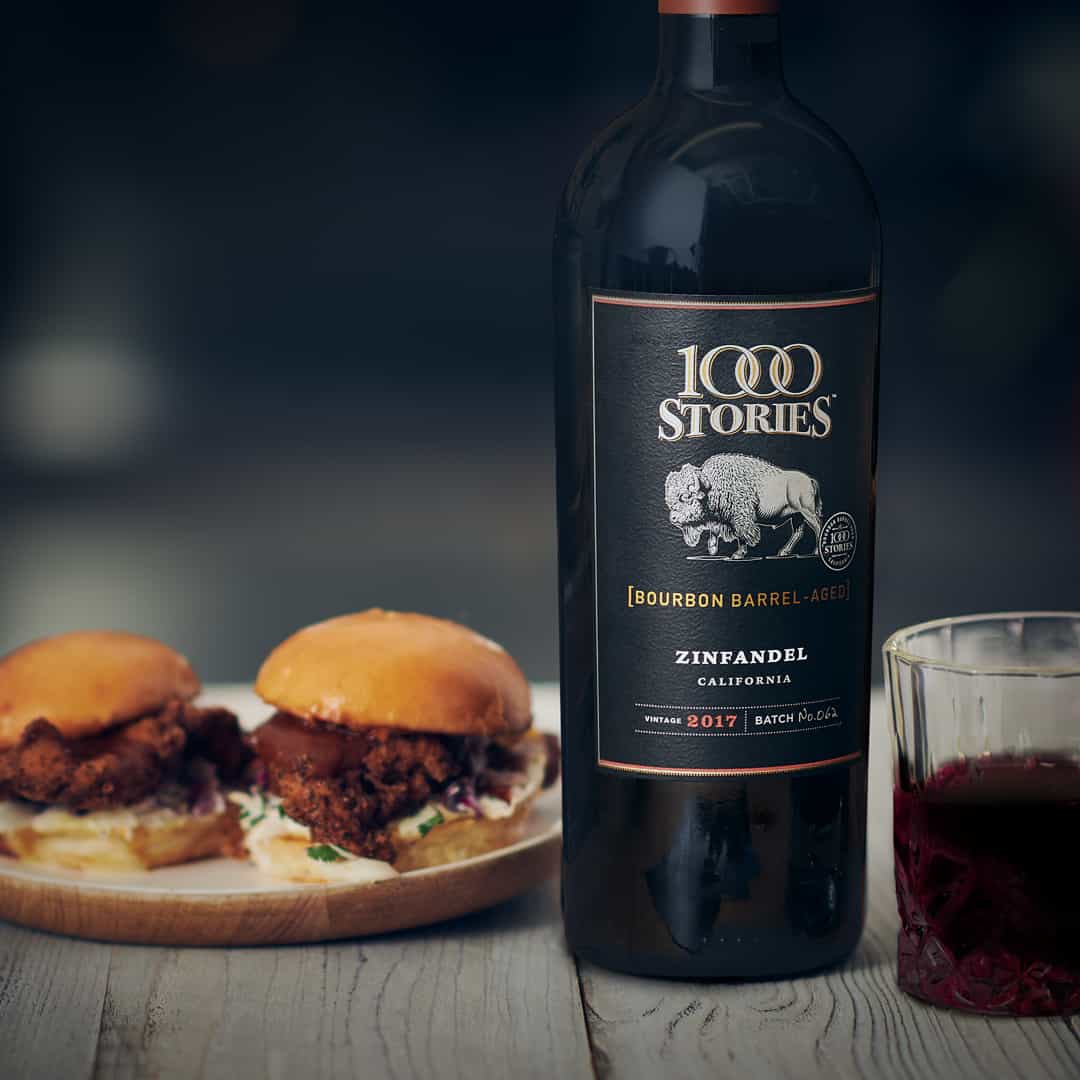 INGREDIENTS
CHICKEN
4 boneless, skinless chicken thighs
1 cup buttermilk
1½ cups all-purpose flour
1 teaspoon garlic powder
1 teaspoon smoked paprika
1/2 teaspoon cayenne
1 tablespoon salt
1 teaspoon freshly ground black pepper
Peanut oil, for frying
TO SERVE
Mayo
4 slider rolls
Hot sauce (optional)
Sliced pickles
PREPARATION
For the chicken:
In a large plastic bag, combine chicken thighs and buttermilk. Close and refrigerate for at least 1 hour.
Meanwhile, in a shallow bowl, whisk together flour, spices, salt and pepper.
In a heavy pot over medium-high heat, add about 1-inch of peanut oil (if using a thermometer, it should read 350°F, but if you're not, you can test by adding a little flour to see if oil sizzles).
Coat the buttermilk-soaked chicken into the flour mixture. Move it around and make sure it is very well coated.
Carefully add the chicken to the oil and cook for about 5 minutes per side, until golden brown and crispy. Remove to a wire rack.
To serve:
Spread mayo on the slider buns and add a couple splashes of hot sauce, if desired. Add chicken and top with pickles.