There's nothing like a caprese salad to announce "summer is here!" The bright tomatoes paired with fresh basil and cheese are best enjoyed in the summer, when gardens are going strong and neighbors have plenty to spare. We can't claim to be caprese traditionalists, though. We take the same approach to summer staples as we do wine: we like to do it a little different, putting a bold twist on a classic idea.
Our recipe for caprese eliminates the mozzarella and replaces it with a creamy, decadent brie that is perfect for entertaining and perfect for pairing with bold wines, like our American Barrel Aged Pinot Noir. Of course, our recipe also includes firing up the grill, because who can resist melted brie and roasted tomatoes? 
Read the recipe to the end to get a few additional tips. Enjoy!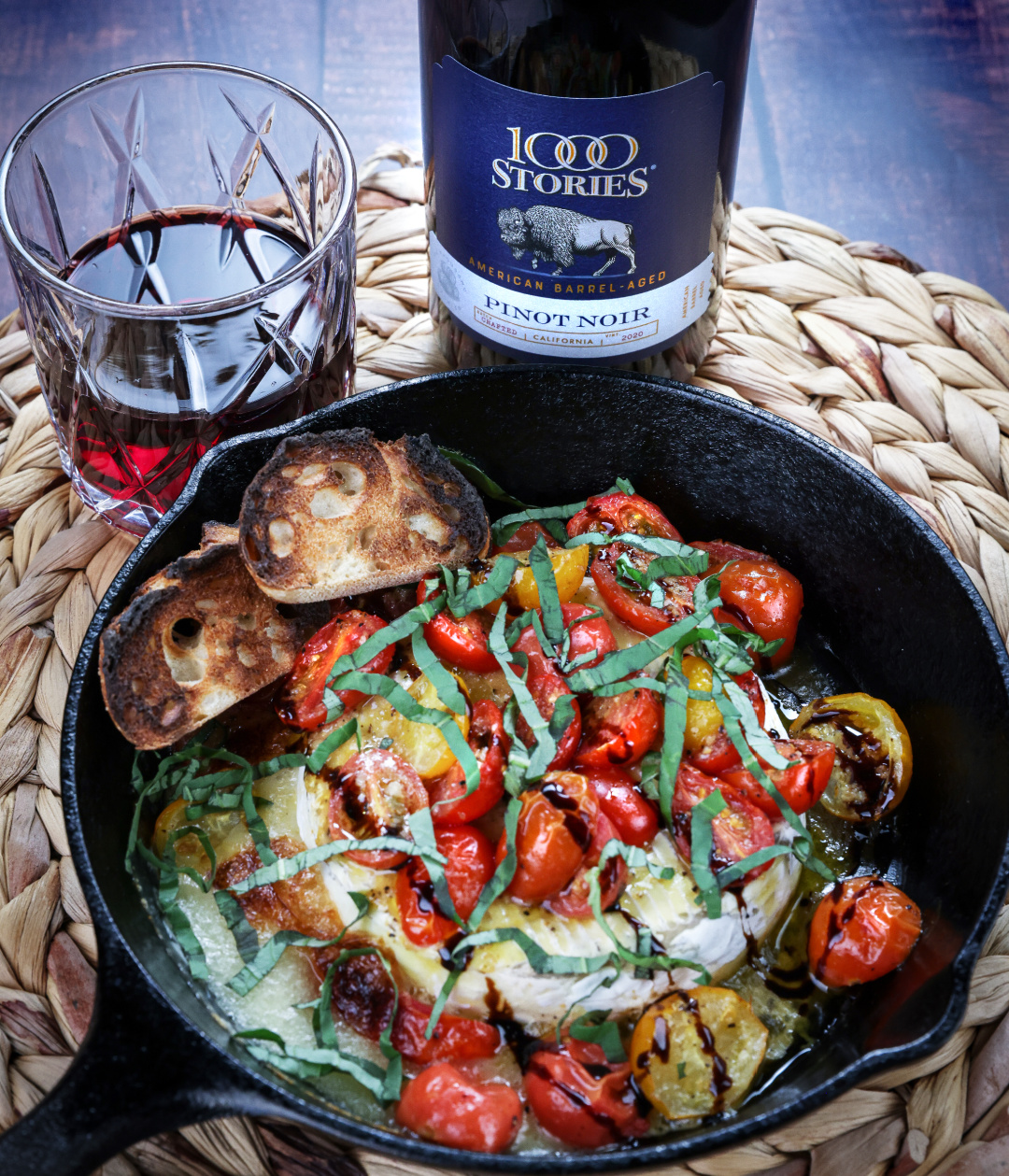 Grilled Caprese Brie
Serves 10-12
Ingredients
1 ½ cups cherry tomatoes, halved
2 cloves garlic, minced
1/3 cup extra-virgin olive oil
Sprinkle pink Himalayan salt
Freshly ground black pepper
Pinch red pepper flakes
1 large wheel brie
Balsamic glaze, for drizzling
¼ cup thinly sliced basil, for garnish
1 baguette, sliced and toasted, for serving
Directions
1. In a large bowl, combine cherry tomatoes and garlic, then toss with olive oil. Season, to taste, with salt, pepper, and red pepper flakes.
2. Place brie in a 10" cast iron skillet then top with tomato mixture. Place over hot grill and cook until brie is melted, about 20 minutes. Keep in mind, just because the brie isn't oozing, doesn't mean it's not hot and ready. To test, poke sides of the wheel with a knife to see if cheese is melty inside, although it will most likely start to ooze out on it's own!
3. Remove from grill and drizzle with balsamic glaze and garnish with basil. Serve warm with toasted baguette slices.
Recipe Notes:
No Grill: Preheat oven to 350. Add brie and tomato mixture to cast iron and bake in the oven for 20 minutes. Turn on the broiler at the end for 2 minutes to brown the cheese and tomatoes.