What's better than flavorful chicken and fresh veggies? Giving them a good char on the grill to bring out their boldest flavors. Today, we have a recipe for you that is both delicious and perfect for sharing at your fall gatherings. We recommend grabbing a bottle of our 2020 Pinot Noir to share alongside these sizzling kabobs.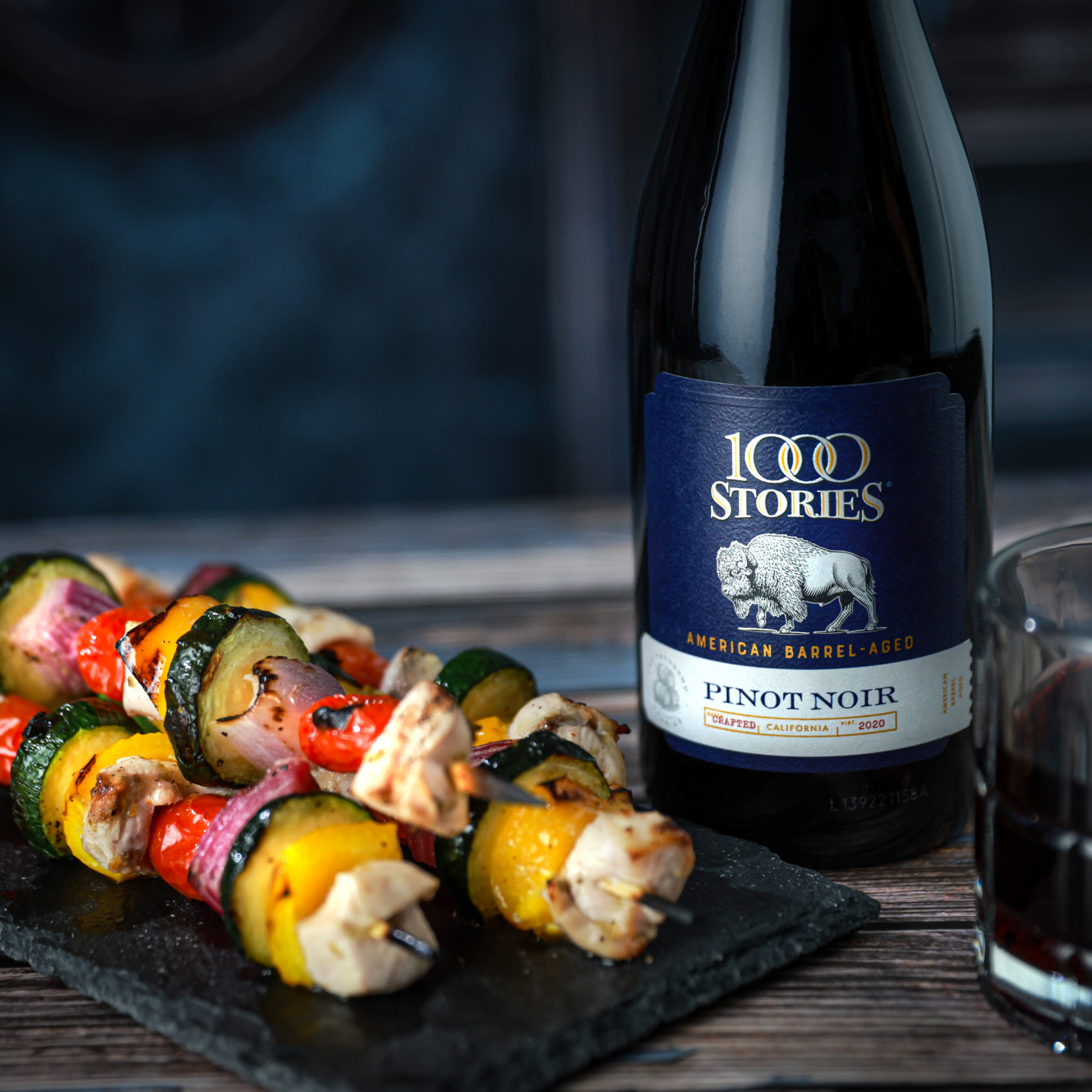 Grilled Chicken Kabobs
Serves 4
Ingredients:
1 lemon, juiced
1 tablespoon red wine vinegar
1 tablespoon dried oregano
2 tablespoons extra virgin olive oil, divided
1 lb chicken breast (boneless, skinless, diced into cubes)
1 large zucchini
1 yellow bell pepper
1 cup red onion
2 cups cherry tomatoes
8 Barbecue Skewers
Salt/Pepper to taste
Directions:
Combine the lemon juice, red wine vinegar, oregano and 1/2 of the olive oil in a mixing bowl. Add in the cubed chicken breast and mix well. Place in the fridge and let marinate while you prep the vegetables.
Dice the zucchini, yellow bell pepper, and red onion into large chunks. Toss in the remaining olive oil.
Slide the marinated cubed chicken, zucchini, yellow bell pepper, red onion and cherry tomatoes onto the skewers.
Preheat the grill to medium heat.
Grill the kabobs for 8 to 10 minutes per side or until chicken is cooked through.
Remove the kabobs from the grill and divide onto plates. Enjoy!
Recipe Notes:
Leftovers: Store covered in an airtight container in the fridge up to three days.
Serving Size: One serving is equal to approximately two kabobs.
Serve Them With: Rice, quinoa, grilled potatoes and/or tzatziki sauce. Add to leafy greens to make a salad.
Vegan & Vegetarian: Omit the chicken and use marinated tofu or whole mushrooms instead.
Wooden Skewers: If grilling with wooden skewers, be sure to soak them in water before using to avoid them catching fire on the grill.