Each batch of 1000 Stories goes on a journey guided by our winemaker, Sebastian Donoso, to become the bold wine you will eventually enjoy. An important part of that journey, and the winemaking process, is deciding what the barrel ageing process will be for each wine.
Wine barrels are used to impart distinct notes into the wine – some soft, some bold. Different aromas and flavors are added depending on the type of barrel used. Here at 1000 Stories, we use Bourbon barrels, American oak and French oak, depending on the flavors our winemaker wants to add. Use the simple information below to learn more about the different barrels and how they are used to make 1000 Stories wines.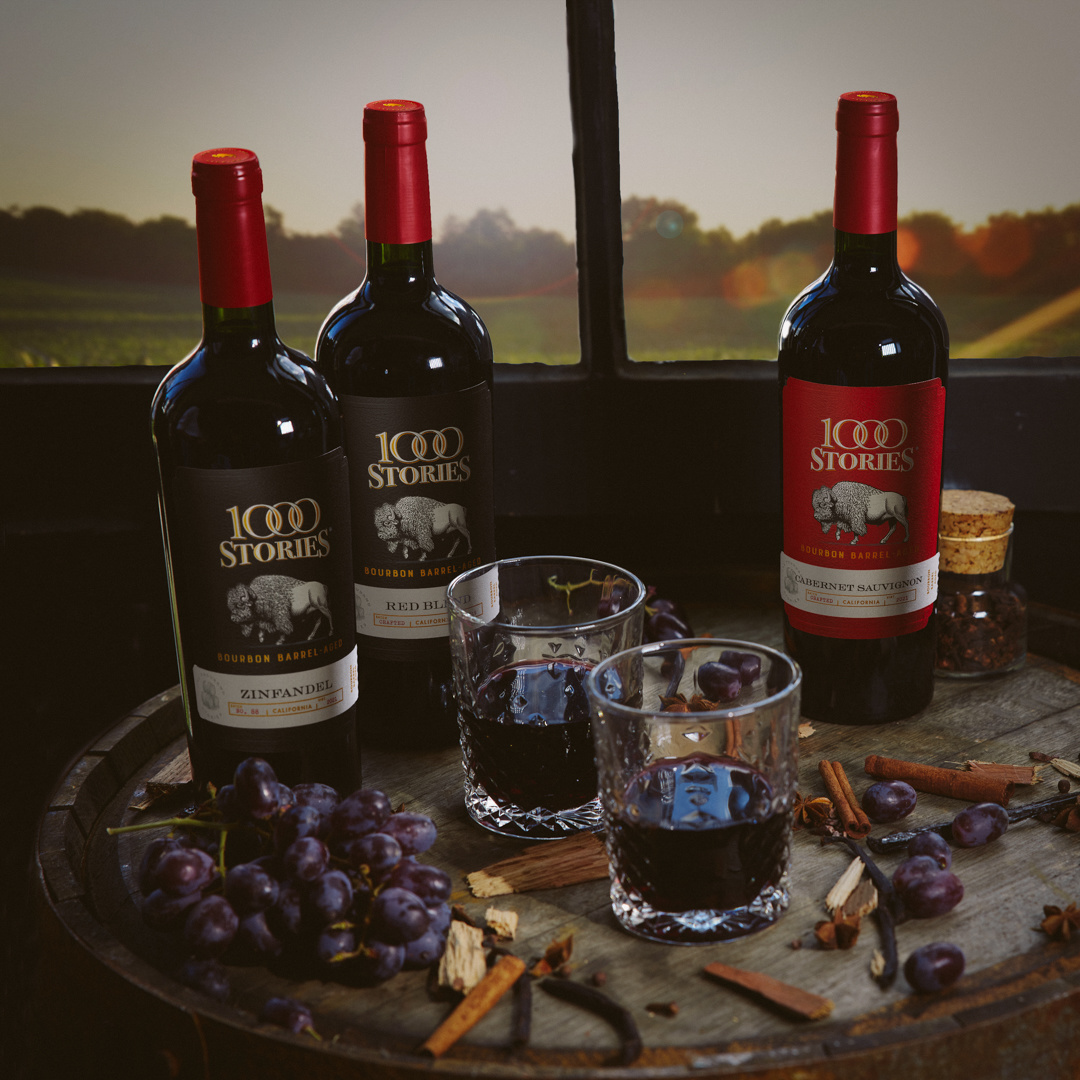 Used Bourbon Barrels:
Barrels: Historically, American oak barrels were always made for Bourbon and Whiskey. The barrels we use are 4-10 years old and have been soaked in Bourbon, with the inside of the barrels blackened or charred to bring out the intensity of the flavors.
Notes: Bourbon barrels impart notes of dried herbs, burnt sugar, caramel, coffee, and vanilla
American Oak:
Barrels: Our American Oak barrels come from Minnesota and have been seasoned outdoors for a minimum of 24 months. Our oak barrels have a medium toast.
Notes: Notes of vanilla, coconut oil, marshmallow and creaminess as well as low levels of tannins, a good match for light-style wines such as our 2020 Pinot Noir.
French Oak:
Barrels: Sourced primarily from France, French oak has a lighter grain and takes longer to impart flavors to the wine. It is widely used in California wines.
Notes: French oak typically imparts darker notes like coffee, mushroom, cocoa powder, dark chocolate, and leather.