The sun is shining and it's time to take the party outside. In honor of long evenings, long weekends and unforgettable days with friends, we've launched our first limited release Sauvignon Blanc. This crisp, inviting wine is a refreshing start to the summer months. It's also the perfect match for succulent shrimp, savory avocado and the fresh, late-spring flavors of mango, jalapeno and cilantro. Whip it up for guests or enjoy with a good book on a warm evening.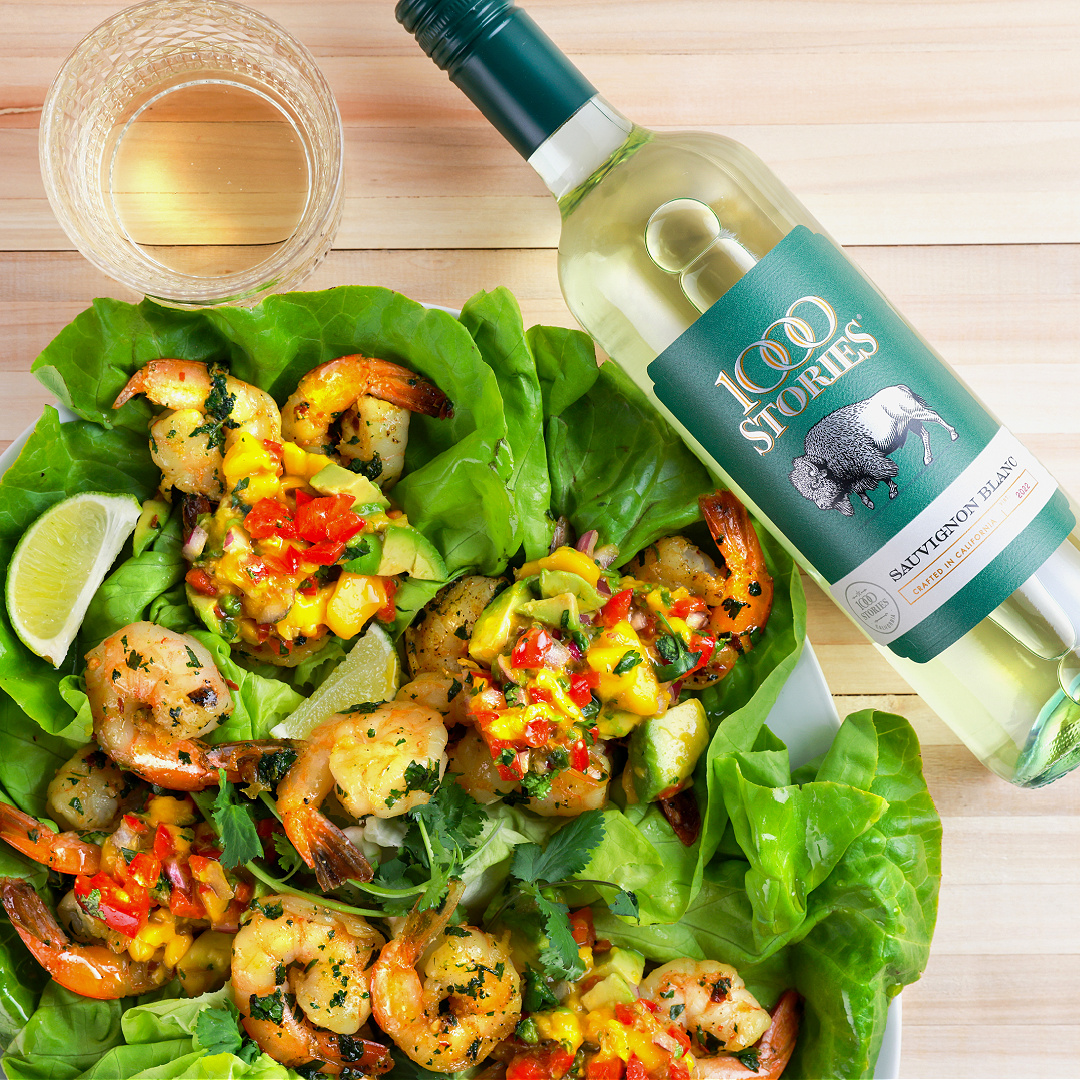 Mango Avocado Salsa Shrimp Lettuce Wraps
Serves 4
Ingredients:
2 heads Boston or butter lettuce (leaves pulled apart)
For the mango salsa:
2 mango, diced
2 avocado, diced
½ cup red onion, diced
½ cup red bell pepper, finely chopped
1 jalapeno, finely diced
1/3 cup cilantro, finely chopped
1/4 cup mint Leaves, finely chopped
2 limes, juiced
Salt to taste
For the shrimp:
2 tablespoons avocado or olive oil
½ cup cilantro, finely chopped
½ teaspoon cumin
¼ teaspoon red pepper flakes
¼ teaspoon sea salt
1 lb shrimp (peeled, deveined, tails removed)
Lime wedges
Directions:
Combine shrimp, olive oil, cilantro, cumin, red pepper flakes and salt in large bowl, and stir to mix. Let stand 20-30 minutes, or refrigerate 2-3 hours if time allows.
In a bowl, mix together the mango, avocado, red onion, bell pepper, jalapeno, cilantro, mint, lime juice, and salt to taste.
Warm a pan over medium heat and add the shrimp. Cook on each side for two to three minutes or until pink and cooked through. Add a squeeze of lime to finish.
To assemble, add the mango avocado salsa and shrimp to the lettuce leaves. Serve with a lime wedge. Enjoy!
Recipe Notes:
Leftovers: Refrigerate in an airtight container for up to three days.
Serving Size: One serving is approximately two wraps.
More Additions: Add minced garlic, shredded cabbage, sriracha, and/or cheese.