With a renowned and celebrated history, Mole is a pillar of Mexican food culture. Containing rich textures and a plethora of bold flavors, this mouthwatering sauce is often praised and desired. Often made for celebratory occasions, the sweet and spicy flavors of this sauce pair excellently with a variety of dishes and drinks. We recommend mixing in some tender, seasoned shredded chicken to create the ultimate taco experience.
If you're looking to try something new, and want to make a bold and historic dish, we strongly recommend giving it a try. This week, take your dinner to the next level by making a delicious mole chicken tacos and pairing it with our bourbon-barrel aged Cabernet Sauvignon. Your mouth will thank you.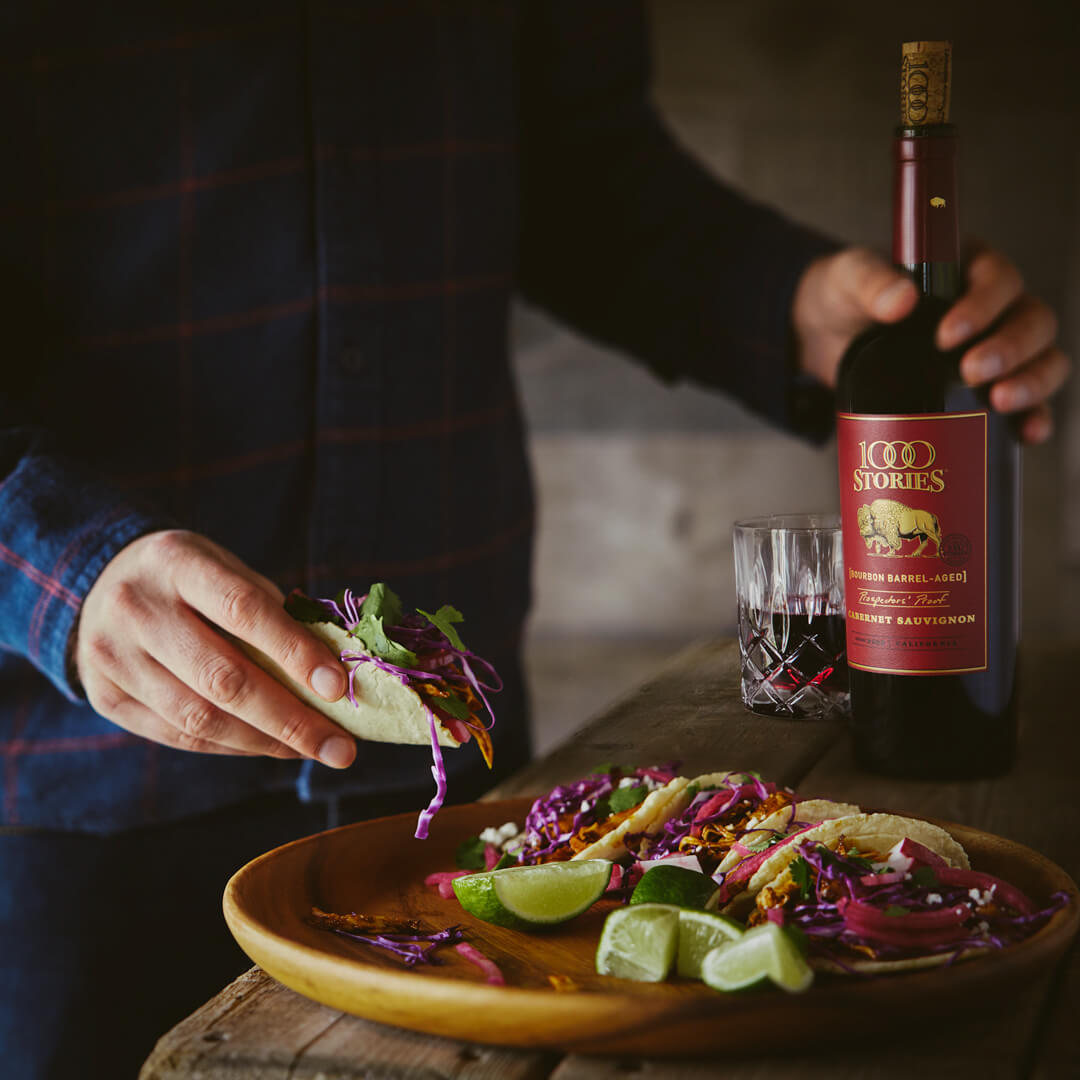 INGREDIENTS
Chicken thighs (either bone-in or boneless thighs work, both should be skinless)
Kosher salt
Corn tortillas
Cotija cheese
Cilantro
Limes
Mole Sauce
Dried ancho chiles
Large can of whole roasted tomatoes
Onion (roughly chopped)
Sliced almonds
Sesame seeds
Dark baking chocolate
Raisins
Chicken stock (chicken or vegetable broth also works)
Chipotle chiles in adobo sauce
Whole cloves of Garlic or 1 ½ tsp minced
Cumin
Cinnamon
Mexican Oregano
INSTRUCTIONS
Mole Sauce
First, you'll need to rehydrate the ancho chiles. While that's happening, toast the almonds and sesame seeds.
Then, add all of the sauce ingredients to a blender or food processor. Blend until smooth, pulsing a few times as needed to break up any large chunks.
Reserve leftover mole sauce to use in enchiladas, drizzled over eggs, or added to soups and chilis.
Cooking the Chicken
Salt the chicken and put it in the Instant Pot. Spread the pieces out to make as close to a single layer as possible.
Pour the mole sauce over the chicken and seal the Instant Pot. Cook on high for 25 minutes (or 20 minutes for boneless), then do a Quick Release.
Remove the chicken from the pot and shred. Then add back to the pot and stir to coat in the sauce.
Making the Tacos
Toast the tortillas on both sides. You can do this directly over the burner for a more charred flavor, or toss them in a skillet just to give them some texture.
Add some chicken and sauce to the tortillas. Sprinkle some cheese and cilantro over the top and serve with lime wedges.
See the full recipe at Kevin Is Cooking.