Is there anything better than a great steak grilled to your individual taste and paired with your favorite bold red wine? For those who have mastered the art of grilling, searing, roasting or pan-frying the perfect cut of beef, it can feel like your work is done here.
Enter chimichurri, a vibrant green sauce that is a staple of Argentine and Uruguayan cuisine. Chimichurri is used generously as a marinade or condiment for grilled meats, most commonly steak. It gives a fresh, flavorful and slightly acidic lift to red meat, but is also commonly added to chicken, eggs, potatoes or vegetables.
There are plenty of variations on this popular sauce, but traditionally chimichurri is made with fresh parsley, garlic, oregano, red wine vinegar, and olive oil. It is believed to have originated in the region of Argentina where it was originally used by gauchos, or Argentine cowboys, to tenderize meat, add flavor and help preserve it. Try kicking up your next cookout with this delicious side, and don't forget to include a bottle of our Red Blend for a juicy, delicious summer evening.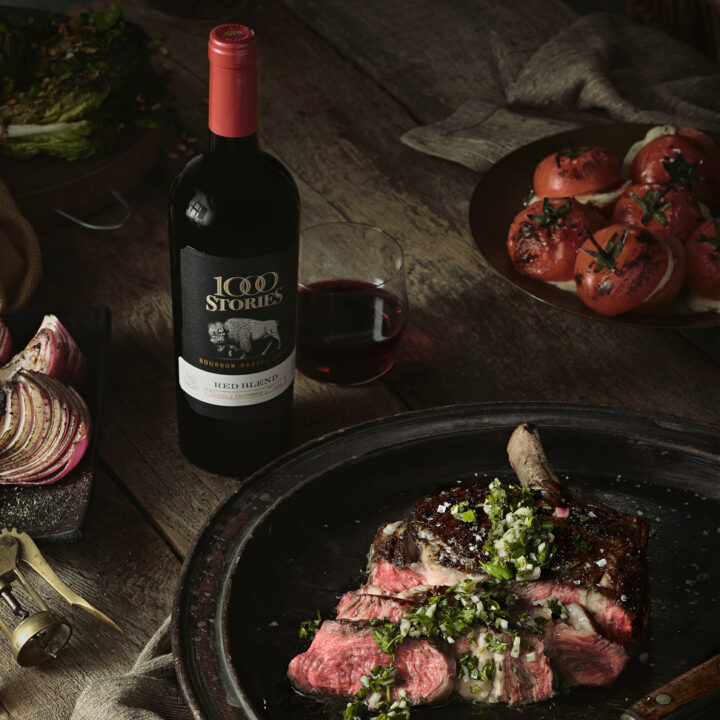 Basic Chimichurri Recipe: 
1 cup of fresh parsley, finely chopped – the fresher the better!
3 cloves of garlic, finely minced
1 teaspoon of dried oregano
1 tablespoon of red wine vinegar
1/2 cup of olive oil
Salt and pepper to taste
Combine all ingredients in a bowl and whisk until well combined. The best part is adjusting the amount of each ingredient to create your own signature recipe. Here are a few other common variations that you might try:
For a spicier chimichurri, add red pepper flakes
Try swapping the red wine vinegar for fresh lemon juice – the acidic effect is similar but some prefer the lemon flavor, particularly for use with chicken
Add ½ cup of fresh cilantro for a more bright, herbaceous sauce
Chimichurri can be made ahead of time and stored in the refrigerator for up to 2 weeks. It is best to bring it to room temperature before serving.