It's Winter! The season of cabins, cold hikes and enjoying snowy days on the slopes while they last. It's also the best time for warm comfort foods at the end of an adventurous day.
That's where this recipe comes in – Philly cheese steak sliders. These delicious sandwiches are just what you need at the end of an active day – or any time you want to indulge in something delicious. We recommend pairing with our Zinfandel. Zinfandel is a bold and versatile wine that stands up well to steak and loves a good cheese pairing – in this case, a generous helping of melted provolone!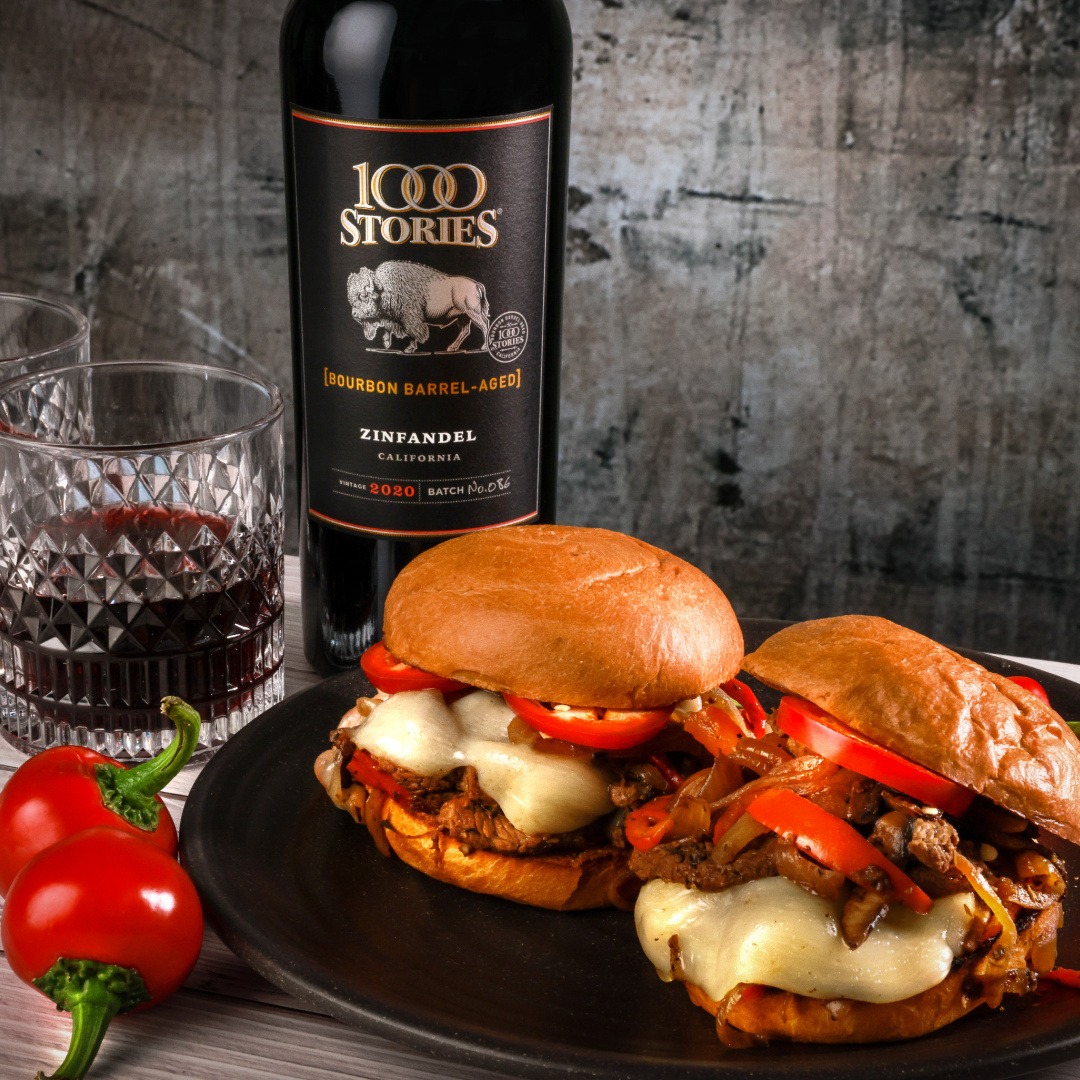 Philly Cheese Steak Sliders
Makes 4
Ingredients:
2 teaspoons olive oil
1 medium onion, sliced
1 medium red bell pepper, sliced
8 ounces sliced mushrooms
1 tablespoon fresh oregano, finely chopped (or 1 tsp. dried oregano leaves)
Sea salt (or Himalayan salt) and ground black pepper (to taste; optional)
12 ounces raw lean beef sirloin, sliced very thin
¼ cup sliced banana or cherry peppers (optional)
4 thinly sliced pieces of provolone cheese
4 small slider rolls, split and toasted
Directions:
1. Heat oil in large nonstick skillet (or griddle) over medium-high heat.
2. Add onion and bell pepper; cook, stirring frequently, for 3 to 5 minutes, or until onions are
soft. Add mushrooms and oregano. Season with salt and pepper if desired; cook, stirring
frequently, for 3 to 5 minutes, or until mushrooms are soft.
3. Add sirloin; cook, stirring frequently, for 3 to 4 minutes, or until beef is cooked through. Top
evenly with banana peppers (if desired) and cheese. Remove from heat; cover and let stand
for 1 to 2 minutes, or until cheese is melted.
4. Top buns evenly with meat mixture; serve immediately.
Recipe Notes:
Leftovers: Refrigerate steak and veggie mixture in an airtight container for up to three days.
Dairy-Free: Use vegan cheese instead of provolone cheese or omit completely.
Vegetarian: Double the mushrooms and omit the steak.