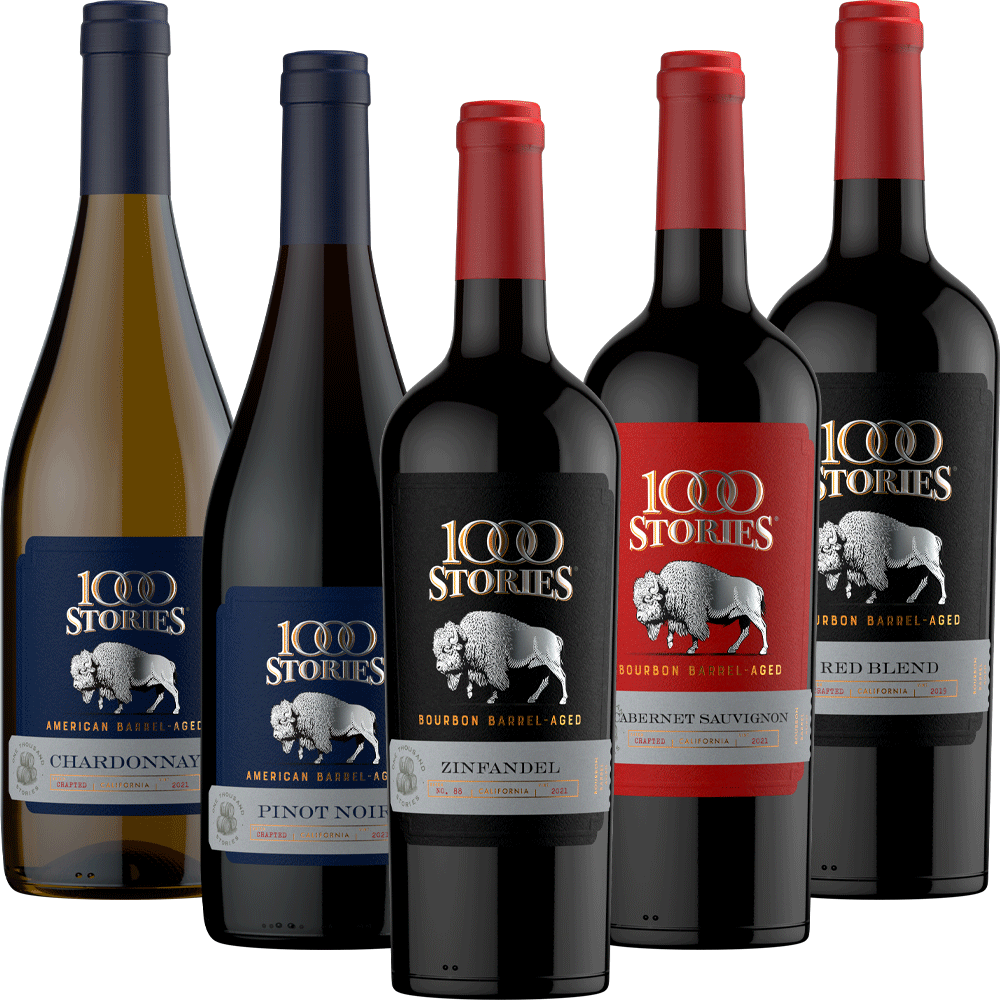 Intro Bundle
Our boldly aged California wines are a call to never stop roaming and never stop living for the stories you'll tell next. Begin your next adventure with a five bottle set of our best sellers.
This bundle includes:
1000 Stories Zinfandel is released in batches to reflect a unique mix of wine grape varieties, vineyards and bourbon barrels—no two batches are the same. Our Zinfandel Batch 88 is light to medium bodied with a soft tannin structure and lengthy finish. The layered flavors of Zinfandel coupled with our bold bourbon barrel aging method result in notes of cranberries, prunes, Marcona almonds, toffee, oregano and thyme. Brilliant garnet in color with a slight purple hue, this wine is ready to drink now or cellar for up to 3 years. 
This medium-bodied Cabernet Sauvignon is brilliant in color; dark mahogany red with a slight purple hue. Driven by a pioneering spirit, the wine expresses notes of dried herb and caramel, signature bourbon barrel characteristics brought on by our unique barrel aging process. These unique notes are complemented by traditional Cabernet Sauvignon flavors of dark cherry, prune, blueberry and tobacco. The layered flavor profile is accentuated by structure and a long finish. Drink now or cellar for up to four years.
Our 2019 Red Blend is a fruit-forward blend of Merlot, Zinfandel, Petite Sirah, and Teroldego. Each varietal in this powerful, lush red wine plays a part in the flavor profile: Merlot lends ripe raspberry and blackberry fruit, Zinfandel brings the spice, the wine's inky purple hue and pleasing minerality are compliments of Petite Sirah, while Teroldego rounds out the blend with bright notes of cranberry and pomegranate. The creation of this well-structured blend culminates in bourbon-barrel aging, giving the wine a finish of charred vanilla and dried herbs.
Pinot Noir vineyards in Monterey County's Arroyo Grande region contribute most of the fruit for this wine, with the remaining Pinot Noir coming from the cooler Santa Barbara region. These vines produce a wine that is medium-bodied with soft tannins and classic Pinot Noir aromas of red fruit, violet, rose petal and earthy mushroom. The flavors of this wine were enhanced by aging in seasoned American oak, bringing along hints of vanilla, coconut oil, and allspice. Our use of American oak is a twist on the usual method for aging Pinot Noir, and is a boldly spirited pursuit of doing things differently.
Our Chardonnay began its journey with high quality wine grapes largely coming from Monterey's  cool-climate Arroyo Seco region. The wine underwent malolactic fermentation, giving it an opulent, round mouthfeel. Working with American oak sourced from eastern Minnesota, Winemaker Sebastian Donoso carefully selected medium toast barrels, yielding a profile that imparts unique flavors of marshmallow, coconut oil and vanilla bean. Sebastian expertly crafted the final blend to create the perfect balance of classic Chardonnay notes and bold flavors that make 1000 Stories wines uniquely different. 
Price: $84.99
Wine Club Price: $67.99