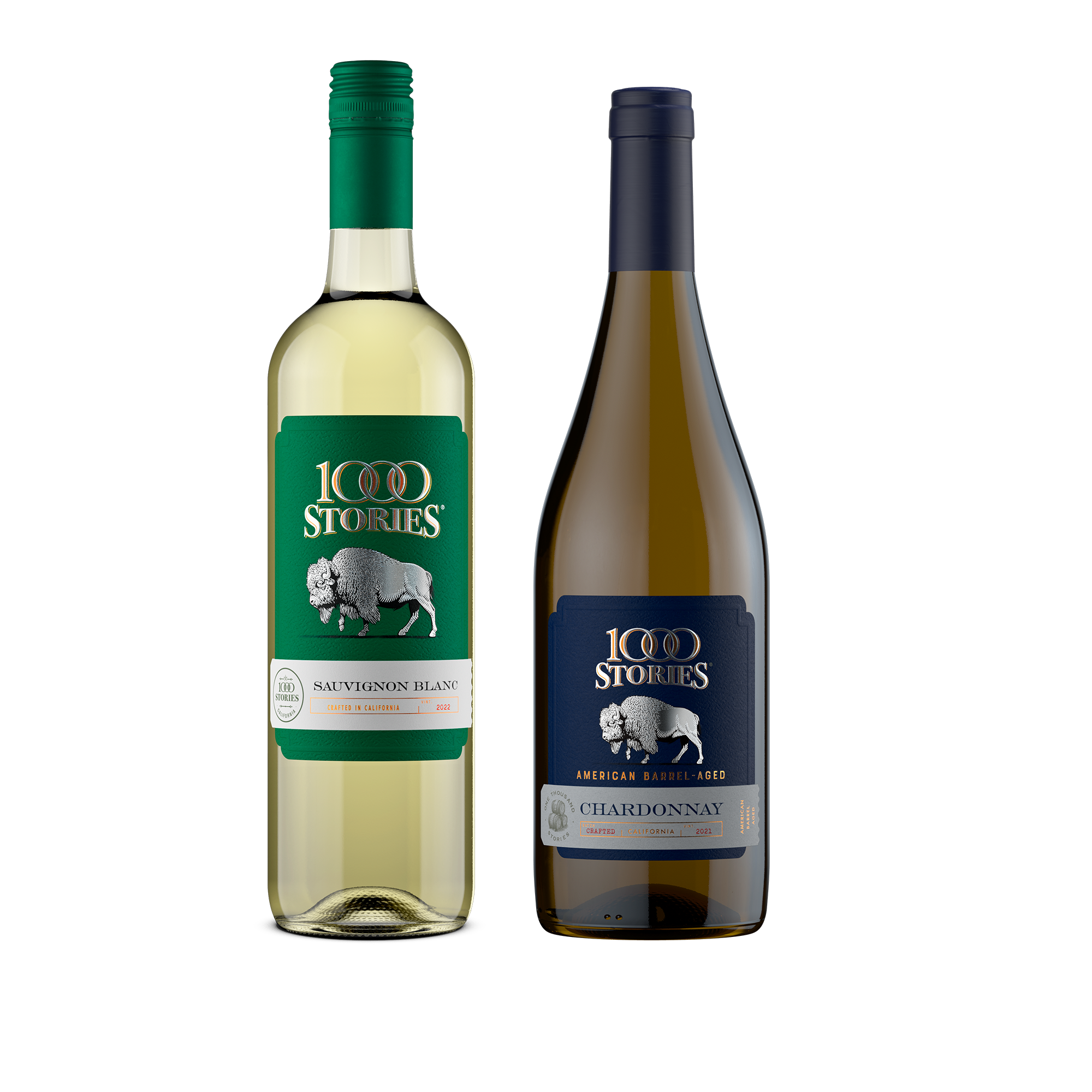 White Wine Duo
We're all born to roam. To explore what's around every corner, beyond the horizon and live a life unscripted. At 1000 stories, we share that same bold roaming spirit, which is why each of our wines tell incredible stories of exploration and discovery. Our white wines are the embodiment of our ongoing commitment to exploration and experimentation. We are beginning to write our next chapter with our American Barrel-Aged Chardonnay and our Sauvignon Blanc – our first wine that's aged in Stainless Steel. 
This bundle includes:
Our Chardonnay began its journey with high quality wine grapes largely coming from Monterey's  cool-climate Arroyo Seco region. The wine underwent malolactic fermentation, giving it an opulent, round mouthfeel. Working with American oak sourced from eastern Minnesota, Winemaker Sebastian Donoso carefully selected medium toast barrels, yielding a profile that imparts unique flavors of marshmallow, coconut oil and vanilla bean. Sebastian expertly crafted the final blend to create the perfect balance of classic Chardonnay notes and bold flavors that make 1000 Stories wines uniquely different. 
Sauvignon Blanc vineyards throughout California—and especially cool-climate sites in Monterey County—delivered the variety's classic profile of fresh fruit character and bright acidity in our inaugural 1000 Stories Sauvignon Blanc. The wine includes a touch of Viognier, which lends additional complexity to the wine, without overshadowing the vibrant character of the star varietal. The wine was fermented in stainless steel and saw no oak contact to preserve its hallmark freshness. A small portion was fermented in concrete eggs, rounding out the mouthfeel and imparting a touch of minerality in the glass. Our 2022 Sauvignon Blanc balances stone fruit notes of white nectarine with the juicy citrus character of pomelo. Hints of fresh-cut grass are underscored by a backbone of minerality. The nish is crisp and bright, with excellent acidity.
Varietal: Chardonnay, Sauvignon Blanc
Region: California
Price: $34.99
Wine Club Price: $27.99