Warmer weather means that grill should be always preheated and ready to go. We love heading down to the farmer's market to find some fresh seasonal veggies, bringing them home and giving them a good char. It's the best way to enjoy the gold reaped from the garden.
Today we recommend finding ripe ears of corn and preparing them in the Mexican street style. "Elote" as it's called, is simply roasted corn on the cob with lime, cilantro and Mexican crema. The char of the grilled corn brings out the nuances of our bourbon barrel-aged wines.
We recommend pairing elote with a chilled bottle of our bourbon barrel-aged Chardonnay. The bright, bold flavors enhance the sweet, light and citrus of the Mexican street corn. This will become your next summer dinner staple, guaranteed.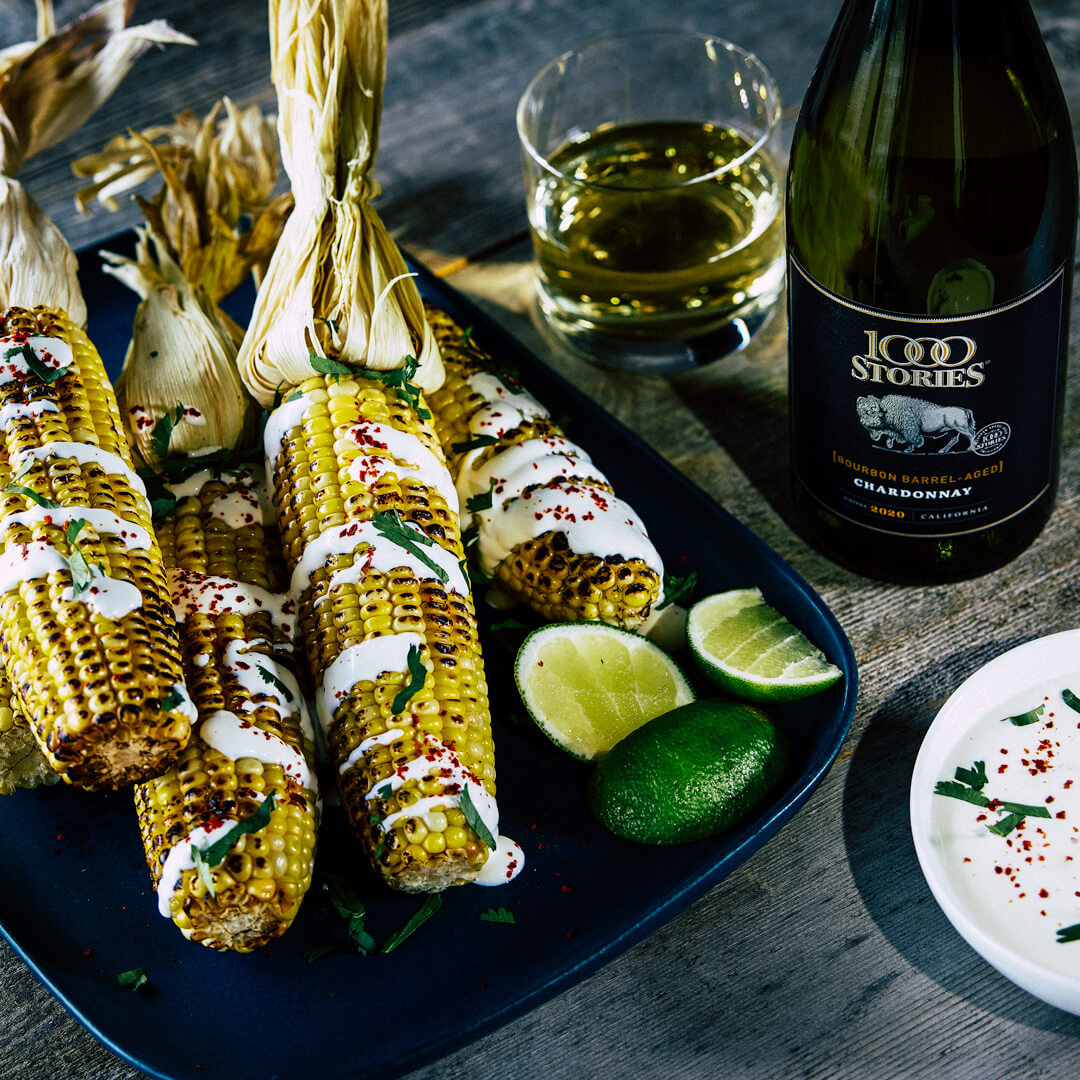 INGREDIENTS
6 to 8 medium ears sweet corn, husks removed
1/2 cup Mexican crema, or sour cream
1/2 cup mayonnaise
1/2 cup chopped cilantro
1 clove garlic, minced
1/4 teaspoon ground chipotle pepper, to taste
2 teaspoons finely grated lime zest, from 1 lime
2 tablespoons lime juice, from 1 lime
1/2 cup cotija cheese, crumbled
Lime wedges, to serve
INSTRUCTIONS
Heat a gas or charcoal grill to 400F: Clean the grates once it has heated.
Whisk together the sauce: In a bowl, whisk together the crema, mayonnaise, cilantro, garlic, chipotle pepper, lime zest and lime juice. Taste and season the mixture with salt if needed. (Crema has a little salt already, so add extra judiciously.) Set aside.
Grill the corn: Place the husked corn directly onto grill grates. Grill the corn for about 3 minutes, undisturbed, or until kernels begin to turn golden brown and look charred. Turn over and repeat. When all sides are browned, remove from the grill onto a plate.
Top the corn with sauce and cheese: Using a brush or a spoon, coat each ear of corn with the crema mixture. Sprinkle with crumbled cojita cheese. Sprinkle with additional chipotle pepper, if desired. Serve immediately with extra lime wedges.
See the full recipe at Simply Recipes.